February 23, 2021
Recently, Indian users of the Galaxy S20 series got the latest One UI 3.1 update. Now, according to the Samsung Official Forum, the news comes that the latest update supports the eSIM function of the Galaxy S20 Plus device and this feature available in regions like India and the USA.
As per the latest info, this update can identify by the build number G98xFXXU6DUB5 and weighs 1.2GB in size. As you can see below, the screenshot on the forums shows the eSIM options inside settings-> SIM Card Manager.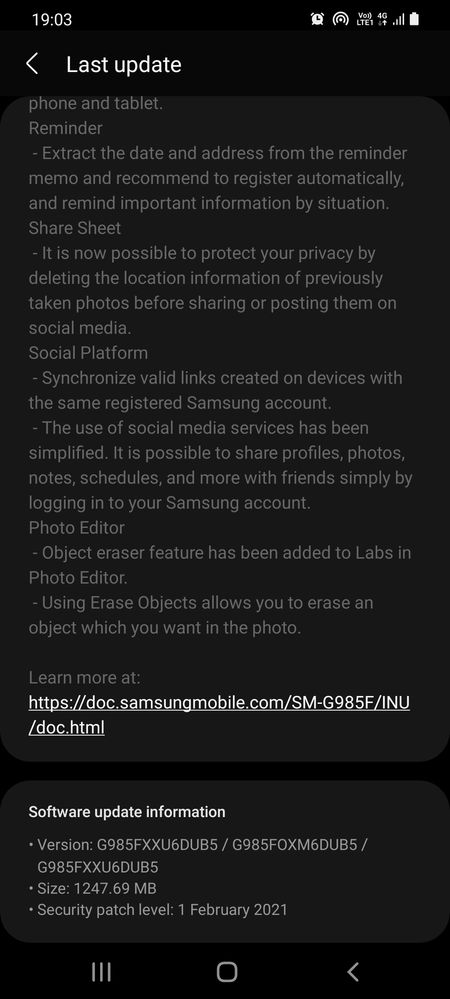 So, for using a secondary SIM card, one had to take out the memory card and use the slot for another network. For the unware, Samsung Galaxy S20 comes with a Hybrid-SIM slot i.e., users can use a nano-SIM + microSD card or two nano-SIMs at a time. Anyway, with eSIM enabled, you can now use the device with two networks and an SD card simultaneously.
February 22, 2021
Samsung recently rolled out the One UI 3.1 software update in its home ground South Korea and now the company rolling out this update for S20 lineup Indian users.
February 18, 2021
Just a little while ago, we have created an article in which we have told that Samsung will be rolling out the One UI 3.1 software update for the Galaxy S20, Galaxy S20+, and Galaxy S20 Ultra, Galaxy S20 FE, Galaxy Note 20, Galaxy Note 20 Ultra, Galaxy Z Fold 2, and Galaxy Z Flip series from today.
Samsung has given an update of the latest Android 11 based One UI 3.1 to its Samsung Galaxy S20 5G, Samsung Galaxy S20+ 5G & Samsung Galaxy S20 Ultra 5G in its home ground South Korea and it is expected to be available widely in the coming days.
The latest One UI 3.1 update for the Galaxy S20 lineup also brings the current month patch – February 2021 security patch update that brings secure your device against 4 critical and 32 high levels of CVEs.
Join Our Samsung Channel On Telegram
According to this update, users will be able to shoot dynamic photos and videos with new smart camera features like improved Single Take, Object eraser tool, touch autofocus, autoexposure controller, and Multi Mic Recording.
Talking about the Android 11 based One Ui 3.1 update, it comes with the build number G981NKSU1DUB6/G981BXXU6DUB5 – Samsung Galaxy S20 5G, G986NKSU1DUB6/G986BXXU6DUB5 – Samsung Galaxy S20+ 5G and G988NKSU1DUB6/G988BXXU6DUB5 – Samsung Galaxy S20 Ultra 5G.
If you are a user of the Galaxy S20 lineup and you have updated your phone then you will see that head into your Settings to find One UI 3.1's new Eye Comfort Shield mode that automatically adjusts the blue light based on the time of day. In addition, you can also remove metadata that reveals the location of photos before you share them.
If you have the Galaxy S20 lineup in South Korea, then you can check the latest update manually by going to the device Settings >> Software updates >> Download and install.
Note: Before upgrading to the latest version make sure your smartphone is connected with a proper internet connection, we recommend you to download it over WIFI so that you will not face any error.
If you like our news and you want to see such news even further, then follow RealMi Central on Telegram, Twitter, Facebook (Page) (Group) & Instagram.